It is again the time of early winter rain, dark evenings, a visit from Saint Nicholas , and that means Speculoos, of course!
What is speculoos?
Speculoos are crispy, spiced biscuits very famous in Belgium, the Netherlands, France and Germany. When you order a cup of coffee, chances are that you will receive speculoos cookies along with it.
They are brown in color, which is mainly due to the presence of a special dark sugar in the recipe.
Speculos is also characterized by the shape of the cookie. They are made using traditional wooden moulds, which give them their characteristic relief.
Speculaas Spices
The speculaas spices are typical of the speculaas. You can find them in the store or mix them yourself. What should it contain? That varies a bit. Everyone has their own preference. What should definitely be in there, is cinnamon, as the main part. In addition, certainly also cloves and nutmeg. Cardamom, ginger, and mace (which is actually the shell of the nutmeg) are also popular additions. A suggested mixture can be found in the recipe below.
Sugar – cassonade
As you just read, speculoos is made using a specific kind of sugar. Which then? Dark cassonade. This gives the caramelized biscuit its specific taste and its beautiful dark brown colour.
Cassonade is a moist sugar, a form of cane sugar, which also contains molasses. This gives the cassonade not only its specific taste, but also its moist and easily clumping character.
Those who cannot get hold of dark cassonade, or candy sugar, can also use cane sugar, or granulated sugar if necessary. The spice flavour will be more pronounced, and instead of brown, the speculaas will turn blond, or even white.
The speculaas board
Traditional speculaas is designed in a speculaas board. This is a hand-carved, wooden form, into which the dough is pasted. Traditionally, these are hand-carved shapes – Sint and Piet, and other traditional figures, windmills, houses, animals, you name it. The wood is usually beech or oak, for older forms; woods that are easy to cut and, very important, do not transfer any flavor to the dough.
The figure is quite two-dimensional. The shape is usually incised to a depth of 4 to 6 mm, with slightly deeper notches for the details. Shapes are also sold as speculaas board, which are deeper and more three-dimensional. Usually these are (halves of) butter moulds.
As a kind of folk art, these shelves are also very decorative. Especially the larger sizes. If you buy a used speculaas board, make sure that it has not been varnished.
How do I use a speculaas board?
So you have a speculaas board. Now how do you use the thing? There is good news, and there is bad news. The good news is that you don't have to do anything special. There are many methods and home remedies available online that should make it easier, but they are actually superfluous.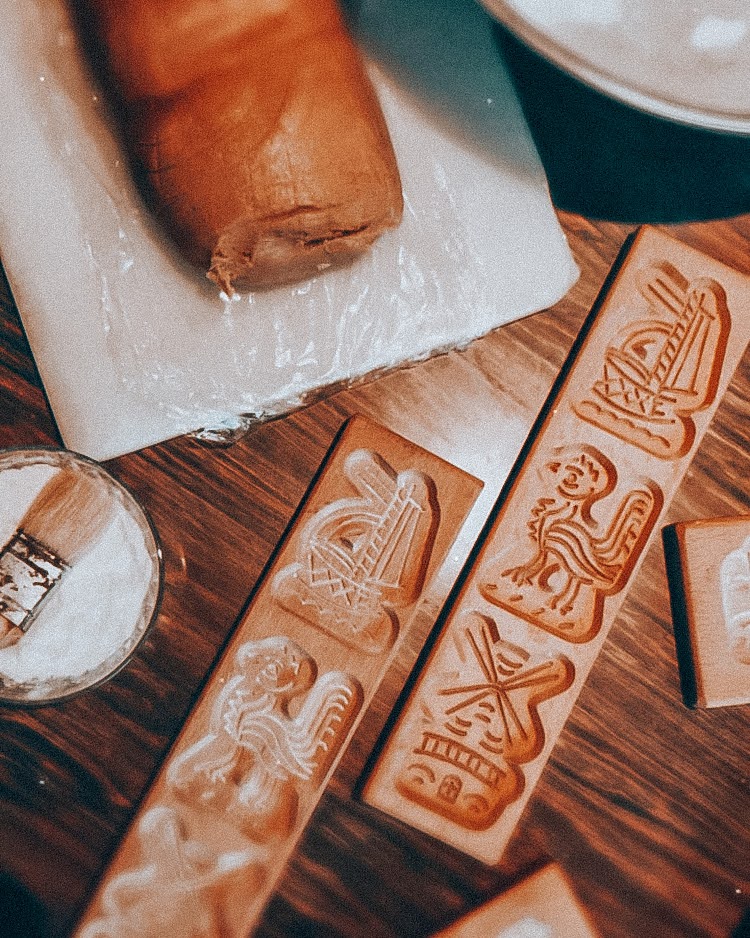 That is also the bad news. A new gingerbread board will always stick. So the beginning will always be a little more difficult. After baking several times, the dough itself will slightly grease the wood so that it dissolves more easily. And that's the best way.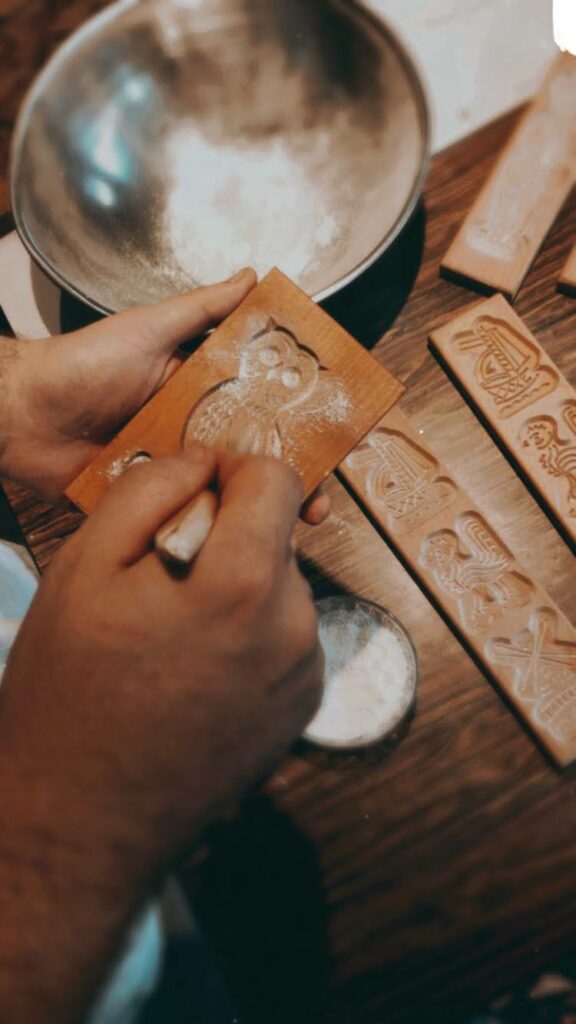 When we are baking, all it takes is to lightly dust the board with flour. Knock the board upside down after dusting, and we'll be there. It can be tempting to use a little more flour the first time – then the dough comes out a little easier. But more flour in the grooves means more flour on the biscuit. And that doesn't look – or taste! – as nice.
Make sure the dough is flexible but stays cool. You can cool down a bit in between. Simply push the dough into the mold and cut it flat against the board. Some people swear by iron wire, but for me a sharp knife still works best.
If all goes well, you can simply turn the board over, tap the side a bit on the work surface, and your speculaas will come out like this. If the plank is still new, you may need to give it a hand. That's where that sharp knife comes in handy again.
After use, you can simply brush the board dry. That way it is ready for the next time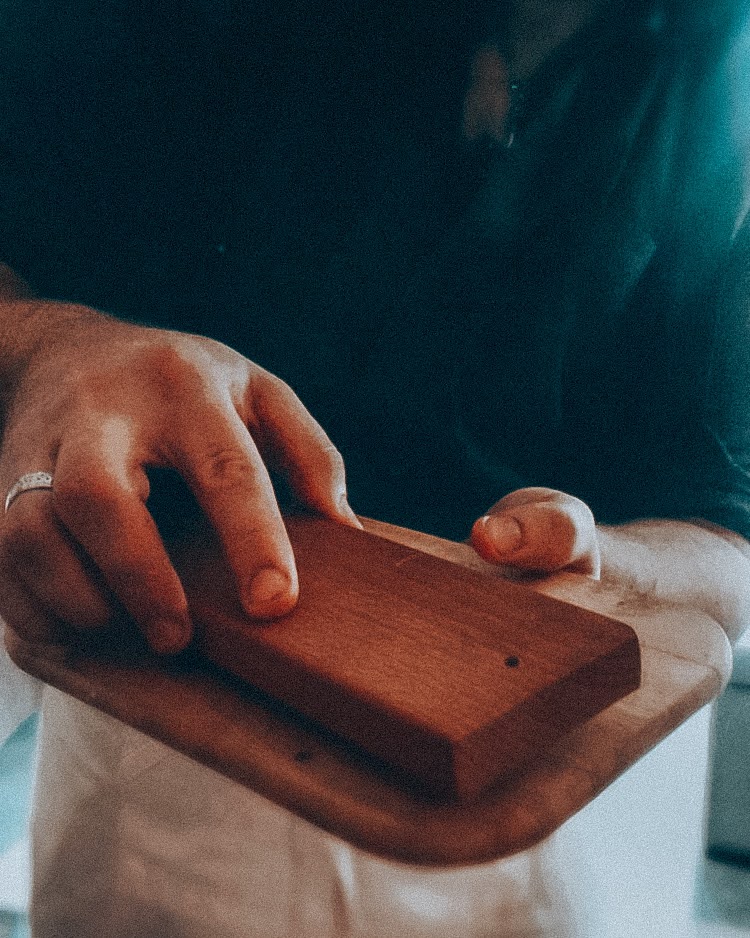 Without mould?
If you don't have a speculoos board, don't let that stop you. Simply roll out the dough to a thickness of 4 to 6 millimeters and cut or cut out shapes. It may look a little less traditional, but it tastes just as good. Some older cookbooks also have recipes for Speculoos ménagère , which are designed exactly like this.
To work!
I think it's time we strap on our aprons and just get on with it. Below is the recipe: have fun, and enjoy it!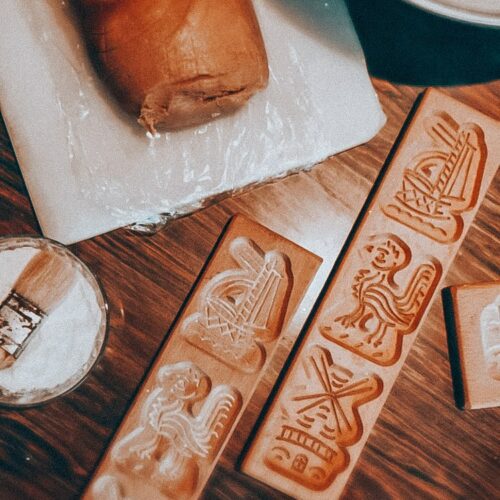 Speculoos
The crunchy biscuits that can be found everywhere, and usually served when having a coffee. These are especially popular in the fall and winter, during the days of St. Maarten and St. Nicholas. Traditionally, biscuits are formed using a wooden board with hand-carved patterns.
Ingredient list
Speculoos spices
4

parts

cinnamon

1

part

nutmeg

1

part

cloves

1

part

ginger

½

part

cardamom
Dough
540

grams

cassonade

dark

900

grams

flour

540

grams

butter

1

egg

2

tablespoons

speculoos spices
Instruction
Speculoos spices
If the spices are not yet ground, grind them, and mix well.

4 parts cinnamon,

1 part nutmeg,

1 part cloves,

1 part ginger,

½ part cardamom

Store in a dry and cool place.
Dough
Place the flour on a work surface (or in a mixing bowl) and make a well in it.

Pour the remaining ingredients into the well and mix without mixing in the flour. Note: add the spices to taste. Tasting is important.

540 grams cassonade,

540 grams butter,

1 egg,

2 tablespoons speculoos spices

Mix the flour into the mixture until a compact mass forms, which you can ball.

Let rest for several hours in a bowl, in a cool place. Feel free to leave it out all night.
Moulding and baking
Preheat the oven to about 160°C

Dust the speculoos board with flour and tap it on the side to remove most of the flour. The goal is a thin layer of flour on the plank, without too much flour in the grooves.

Push the dough into the board.

Cut the dough flush with the board using a sharp knife.

Shake the speculoos from the mold, onto a lightly greased baking tray, or onto baking paper.

Bake the speculoos until it is crispy, with a good color. How long depends on the size. About 20-25 minutes at 160°C.
Additional notes
Be sure to read the post above this recipe card for additional directions.
While forming it is important to keep the dough smooth, but not too warm.
Due to the high proportion of sugar in the dough, it can burn quickly at too high temperatures. It is better to lower the oven a little than to try to go too fast.